Volunteering



At St. Andrew's Community Hospital (SACH), we aim to make volunteering meaningful through:
Self-Actualisation: Knowing and being yourself.
Social Responsibility: Meeting the needs of the community.
Personal Development: Benefiting yourself through volunteering.
Creating an Exchange: Place of interchange
As a volunteer, you will work alongside our staff in various hospital functions, providing both direct and indirect patient care. Your involvement will complement our delivery of holistic care, strengthening our delivery of medical, social-psychological and spiritual care.
NON-PATIENT RELATED AREAS:
No current needs for volunteers in non-patient related areas.
PATIENT-RELATED AREAS:
Befrienders for Paediatric Patients
Age requirement
16-60 years old
Commitment
Once a week, for a minimum period of 6 months.
Training
On-the-job
Desired Qualities

English speaking and knowledge of Mandarin / Malay
Matured and able to carry out tasks independently.
Outgoing, creative and resourceful in planning activities with the young patients.

Brief description of work

Play with young patients.
Plan and conduct activities with them.
Supervise the patients in doing their homework.
Assist with tasks as assigned by therapists/doctors/nurses
Ward Librarian
Age requirement
At least 17 years old
Commitment
Once or twice a month, for a minimum period of 6 months.
Training
On-the-job
Desired Qualities

Enjoys interacting with people
Mature personality with a warm and nurturing disposition
Meticulous in paper work and shelving
Enjoys reading

Brief description of work

Maintain cleanliness of the bookshelves
Pack donated books and magazine
Categorise the publications
Keep record of items borrowed/returned
Befriend patients and orientate them on the use of the library where possible
AD-HOC VOLUNTEER OPPORTUNITIES
Interested applicants who are unable to make a regular commitment of a minimum period of 6 months may consider signing up as an Ad Hoc Helper instead. We will keep your contact details for one year, from date of application, and email / call / SMS you for help, as needed. Some examples of help that we might need on an ad-hoc basis are:
Escorting patients for external medical appointments
Direct mailer packers (for mass-mailing donation appeal campaigns)
Events helpers (e.g festive celebrations for patients, or other corporate events)
Translation work (to  translate English articles to Mandarin, Malay or Tamil)
Design work
Photography or videography service
Fundraising
Administrative work (e.g data-entry, filing, etc)
To sign up for any of the above, please fill up our Online Volunteer Application Form; or download a PDF Volunteer Application Form and email / send it back to us. For enquiries, please call 6586 1000 or email general@sach.org.sg.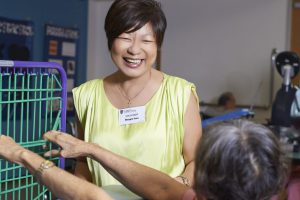 We welcome groups, i.e. schools and organisations , to partner us in their community service initiatives in the following ways:
1) Ward Visitations
In groups of less than 15 people, visit patients by their bedsides, interact with them and engage them in simple activities.
Activities that you may wish to plan and conduct – Singing, magic tricks, simple origami, balloon sculpturing, or other ideas.
We have 4 wards of 32 beds, and 2 wards of 30 beds of patients. If your group is too big, you may wish to split up into smaller groups to visit one ward per small group.
Schedule: Either Monday – Friday, between 2.00pm – 6.00pm.
2) Group Performances
The hospital organises festive celebrations for patients and would be glad to have groups partner us by planning and conducting 10-30 minutes performances as part of these celebrations.
Festive celebrations are usually held for Chinese New Year, Parents' Day (combining Mothers' and Fathers' Day – which is usually held around May), Mid-Autumn Festival and Christmas.
Ad Hoc performances by volunteers which are not festive in nature, may also be considered.
3) Raising Funds and Awareness
Plan and conduct fundraising activities in your own premises and adopt us as the beneficiary of funds received.
The hospital would be glad to share information with you to raise awareness about our services and areas of need for your fundraising campaigns. SACH welcomes other ideas for volunteering and/or community engagement that are not stated here.