Admissions to St. Andrew's Community Hospital (SACH) for inpatient care is through referrals from
Acute-care hospitals, community hospitals or nursing homes

General practitioners and medical specialists
For more information on referrals, please contact our Medical Social Work Department at 6586 8045 or send a fax to 6702 1277.
Site Visit
Appointments to view the hospital wards and facilities can be arranged for family members of incoming patients between 9.30am to 5.00pm, Mondays-Fridays. To make an appointment, please call 6586 1000 to speak to the Corporate Communications Department.
Rehabilitative Care
Rehabilitative care is for patients who require physiotherapy, occupational therapy, speech therapy, and/or music therapy. Patients will undergo 2 to 4 weeks of rehabilitation to help them regain daily living functions and integrate back into the community.
Sub-acute Care
Sub-acute care is for patients recovering from complicated medical conditions, who still require a further period of hospitalisation for sub-acute treatment. Patients will undergo 2 to 4 weeks of treatment to help them improve to their optimal functional status, which will allow them to be managed at home.
Paediatric Care
Paediatric care is offered to young patients from 2 years old to 18 years old. Referred to us from an acute-care hospital, these patients suffer from illnesses which require longer term non-acute medical and/or rehabilitative care.
Dementia Care
The dementia care programme at SACH provides cares for patients with mild to severe dementia who also require rehabilitation. Our person-centred approach offers customised therapy sessions (physiotherapy, occupational therapy, speech therapy and music therapy) and meaningful social activities to engage patients in everyday life.
Palliative Care
Palliative care is for patients suffering from terminal illnesses. Our care team, comprising doctors, nurses, therapists, social workers, pharmacists and chaplains, will support patients and their loved ones. We seek to provide patients with relief from the symptoms, pain and stress of the illness, help them understand their responses to their illness as well as their treatment options and goals.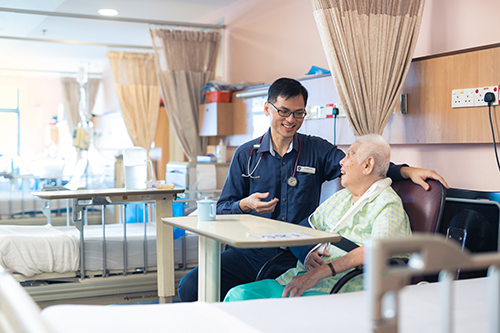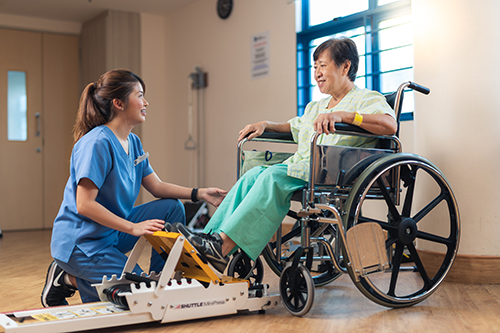 Accommodations
Well-ventilated and open wards in our main building and The Integrated Building

Common bathrooms in the wards

Seating areas with television
Rehabilitation Spaces and Facilities
Occupational Therapy Gymnasium

Physiotherapy Gymnasium

Activities-of-Daily-Living (ADL) Room/ Back-to-Home Training Flat

Satellite Therapy Gymnasiums

Therapy Garden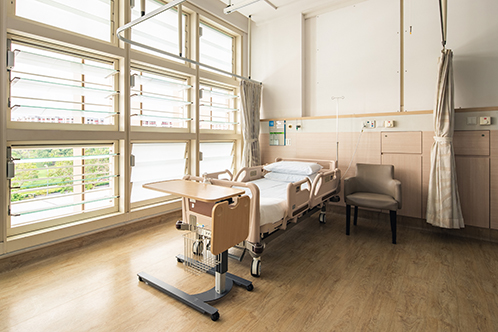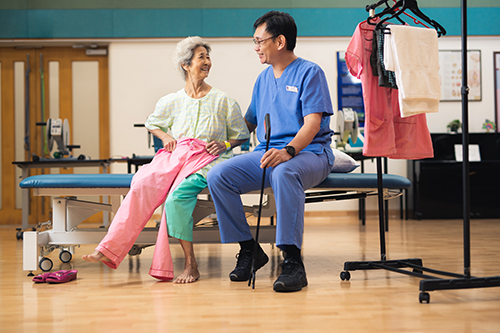 Partnering the Caregivers
St. Andrew's Community Hospital (SACH) believes that an active partnership between a patient's family and our care team is important. We encourage our patients' families to plan early for a caregiver in order to facilitate caregivers training so as to help the patient with his or her activities of daily living after he or she is discharged.
Visiting Hours
Visiting hours are from 12:00pm to 9:00pm daily.
Visitors' Advisory
In the best interest of all our patients at SACH, we advise
No more than 4 visitors per patient during visiting hours. Registration by identification card
(i.e. NRIC) is mandatory for visitors of the wards at The Integrated Building.
Visitors running a fever temperature of 37.5°C or higher or with flu-like symptoms should refrain from visiting the hospital.

Visitors should observe good hand hygiene in the wards b

y washing hands with the hand sanitisers in the ward at the start and end of each visit.
Visitors should also be aware that influenza viruses are an on-going threat in the community, continue to take care of their own health and practice good hygiene at all times.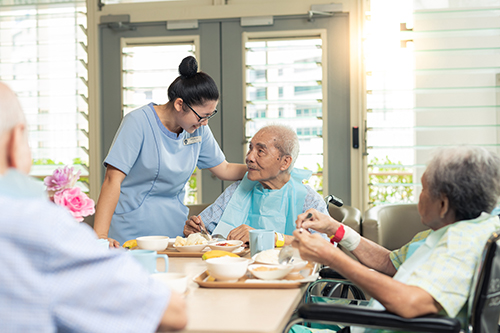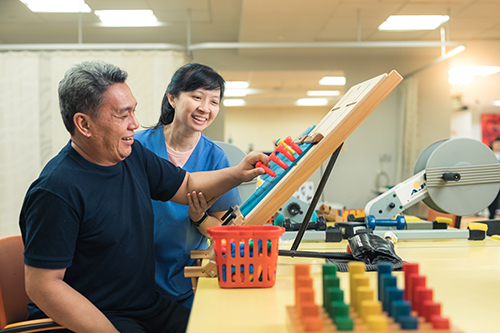 Pastoral Care
Our in-house chaplains offer a hand of friendship, a listening ear and a compassionate heart as they journey alongside patients on their journey towards recovery. Through the pastoral care programme, our pastoral care team seeks to help patients and family members find solace, strength and meaning to overcome challenges in life.
Volunteers
As a Voluntary Welfare Organisation (VWO), St. Andrew's Community Hospital (SACH) partners the community actively to care for our patients in meaningful ways. Our volunteers, comprising retirees, housewives, working adults, youths and school students provide company, support and assistance for our patients.
Befriending patients during their therapy sessions

Wards visitation

Haircut

Library

Festive celebrations and ad-hoc performances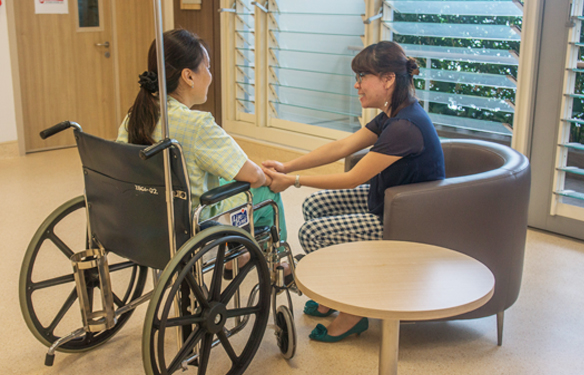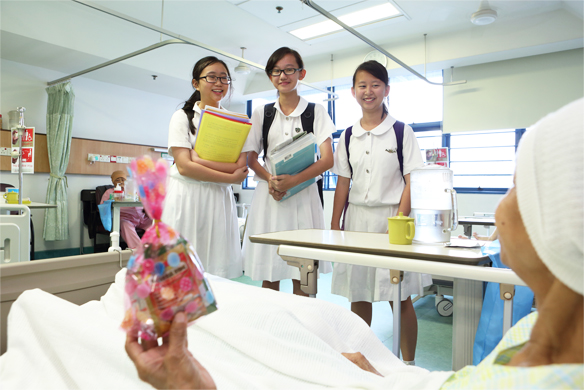 Type of Bed
Singapore Citizen
Subsidized Bed
(Open Ward)

$41 per day
Note to above bed charges :
Fee shown is inclusive of 7% GST.
GST is absorbed for Singapore Citizen and Permanent Resident for subsidized ward.
Above fee is based on maximum government subsidy for Singapore Citizen.
Fee is subject to change without notice.